WATERPROOFING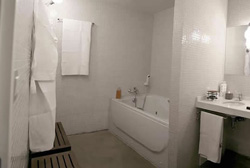 Your shower and bath areas are the wet areas to your home and tiling perfection can retile these sections if need.
Excessive moisture transmission in these areas can cause much underlying damage as many tiles may not resilient to moisture deterioration.
Thus the need for expert tiling advice and special but effective waterproofing procedures which are available to you at Tiling Perfection.
Tiling Perfection uses only the best products to ensure your waterproofing job has the perfect finish and Mapei products are some of many we choose to you for our customers.
So call Tiling Perfection on 02 9861 0227 to waterproof your tile installation.